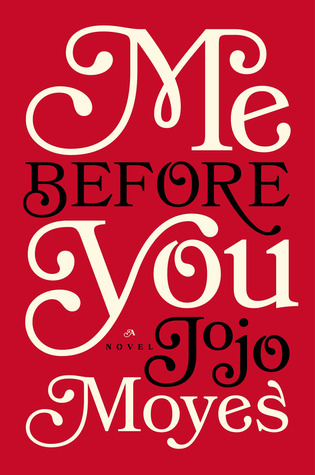 Book:
Me Before You
By:
Jojo Moyes
Narration:
Susan Lyons, Anna Bentink, Steven Crossley, Alex Tregear, Andrew Wincott, and Owen Lindsay
Published:
December 31, 2012
Published by:
Pamela Dorman Books
My Thoughts:
The tears...SO....MANY....TEARS....
I absolutely loved Me Before You. LOVED IT!!!
Okay, now honestly, this book had a slow start for me, and with one of the MC's being a quadriplegic, I wondered if I would be able to connect to it, or see the appeal Lou had for him. Lou is hired as Will's helper and friend for the next six months after a horrible motorcycle accident changes his entire life. Her spunky personality changes a lot for the depressed Will, and he opens her eyes to her own life and the things she can do in it.
I shouldnt have been worried because I fell in love with both of these characters and this was a wonderful, albeit different, love story.
I refuse to ruin this story for anyone. It was so good, so I don't want to tell you how it ends. I won't tell you why I cried, whether they were good tears or sad ones, I'll just tell you that this story was so real that I couldn't even control my own emotions, they were torn right out of me. (A problem at times since I had it in audio format and sometimes I had to pause it to get a hold of myself).
The Narration was perfect with the six narrators giving a stunning performance. I think had I not listened in audio format I wouldn't have gotten past the slow beginning and seen this book for the gem it was. The story itself was wonderful, there was no insta-love. The characters had flaws, and yet, the story progressed as life progresses, slowly, with surprises and confusion and low times that somehow weren't completely boring. I loved this book, and though I'd doubt I'd read it again unless I'm in the mood to get my emotions jerked around, I'd recommend it to everyone who wants a contemporary story that is different from the rest. I give this one 5 huge stars.