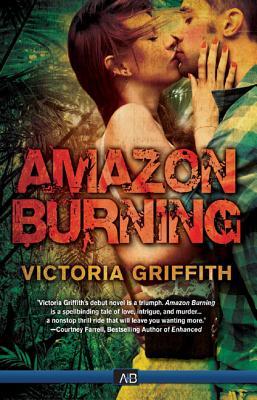 Book:
Amazon Burning
By:
Victoria Griffith
Published:
October 1, 2014
Published By:
Astor & Blue Editions
See the synopsis
here
.
[I was given this book by the publisher in exchange for an honest review]
My Thoughts:
Amazon Burning was a fast paced book filled with Amazonian adventures, new adult lust, and intriguing characters. It was certainly a wild ride.
Our main character is Emma, a 22 year old, wannabe journalist with somewhat uncontrollable sexual tension and a need to keep that tension under control. She's running from a sexual harassment/rape case against her college professor in New York where she's been perceived as the one to blame, and thus, she must become the definition of innocence. Her mind though, doesn't quite want to cooperate, especially when she runs into Jimmy, a photographer, while out researching with her father in the Amazon. Jimmy speaks to something within Emma, and she must work to ignore her desires around him.
Beyond her inner tension, and the hope to clear her name in the court case, Emma is working to help her Father uncover a murder, and catch those in charge of a big poaching operation in the Amazon. Soon, she's swept up in the mystery, and fighting not only for answers, but for her own life.
Amazon Burning was an interesting book that delved into the effects of poaching, and those who choose to fight against it, as well as the criminals that control the trade. Though I feel the story could have been fleshed out a bit more, and some areas felt too short, or unnecessary all together, it was interesting to read about the amazon and the indigenous peoples therein and to follow Emma on her adventures. In addition, I never quite bought in to the romance between Emma and Jimmy. It never actually made sense, and the fact that she was lusting after him from practically the moment she saw him made me feel like this was more romance than mystery/thriller.
I would suggest this book for those of you over the age of 18 (there is some *sexy time*) who like indie new adult romance thrillers set in exotic locales. It was certainly a fast paced easy read. I give it 2.5 stars!
Thanks for stopping By!!!
Wanna Buy?
Amazon
!
Barnes and Noble
!
Publisher
!
Victoria Griffith is the author of the award winning non-fiction picture book
The Fabulous Flying Machines of Alberto Santos-Dumont
(Abrams, 2011), which won numerous awards, including the prestigious
Parents' Choice
. The book was recently translated into Portuguese for the Brazilian market and was also released in audio book version.

Before becoming a full-time author, Victoria spent twenty years as an international journalist, fifteen of those years as foreign correspondent for the UK's Financial Times. During that time, she had fun writing on a wide range of topics, including Brazil's Yanomami Indians, architecture, space exploration, the human genome, and the growth of the Internet. She even managed to fit in some children's book reviews. Her most terrifying assignment was preparing lunch for Julia Child, who praised the Brazilian fish stew but refused to touch the blackberry dessert. Victoria lives in Boston with her husband and three daughters.